If I had to guess what people find to be the most important part of the life of St. Joseph I would think it would be his decision to trust in the message of the angel and take Mary as his wife even though he had every reason not to, and that certainly is valid.  I do think however that a second decision in his life was almost as momentous even though it doesn't get nearly as much attention.
Now when they had departed, behold, an angel of the Lord appeared to Joseph in a dream and said, "Rise, take the child and his mother, and flee to Egypt, and remain there till I tell you; for Herod is about to search for the child, to destroy him." And he rose and took the child and his mother by night, and departed to Egypt, and remained there until the death of Herod. (Mt 2:13-15)
Joseph wasn't just being asked to make a short, well-planned, well-provisioned camping trip with his new family.  He was being asked to flee from everything he had, everything and everyone he knew.  All his family, gone.  All his friends, gone.  All his business contacts, and probably even many of his tools, gone.  And with no promise as to how long he would have to make a new life in this foreign land.  Yet he made this trek without waiting, without planning, without complaining.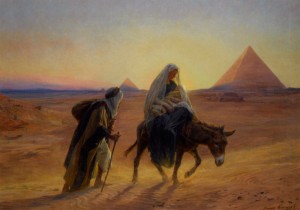 I think all of us at some point in our lives are going to hear a call like this, with God asking us to step out in trust into the unknown.  That can be a very daunting proposition, particularly when we are responsible for others as well as ourselves – yet that is exactly where Joseph is when faced with this call.  Lent seems like the perfect time for us to quiet down our lives enough to perhaps hear an angel's call.  In what way are you being called to Egypt with the Holy Family?