…well the old saying says "May flowers" but in my case it's peas and lettuce (so far).  When you have the relatively short growing period we do up here in the Northeast you take chances every time you plant early.  Sometimes you're rewarded with a bumper crop, sometimes a late frost wipes out your work before it ever got going and you have to start all over again.  I was always amazed that my mother seemed to know exactly the right time to plant our (to me) huge garden and somehow I never can quite figure that out.  I guess the truly green thumb skipped this generation somehow.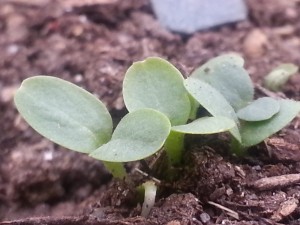 Spending a few hours this past weekend getting the garden ready for the early plants gave me some quality time to think.  Fortunately my gardens are small enough to be turned over with a shovel, so contemplating deeper truths wouldn't wind up with a runaway rototiller.  That'd be … bad.  I've always wondered at God's providence in timing His Resurrection around the same time as this hemisphere is experiencing the wonders of new growth in nature – buds are popping, flowers are blooming, baby animals are poking their noses out into a fresh new world.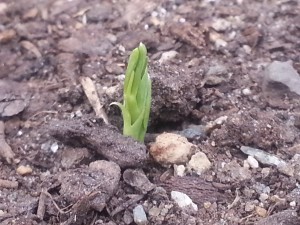 "Therefore, if any one is in Christ, he is a new creation; the old has passed away, behold, the new has come." (2 Cor 5:17)  Even though we're in the season of Easter it's very easy by now to have swung back to the way we were living before rebuilding ourselves over Lent for the great celebration of Easter.  In our Baptism we were made new creations in Christ – whether our lives have fully shown that truth or not!  We are those seeds that once buried come to life anew giving life, vigor and sustenance to the world.  Let's let these new sprouts remind us of our great calling and take up again the new life to which we have been called!