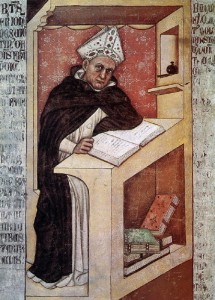 The great Dominican saint, Albert the Great, Doctor of the Church and teacher of St. Thomas Aquinas, in his work "On Cleaving to God":
Now there is no one who approaches God with a true and upright heart who is not tested by hardships and temptations. So in all these temptations see to it that even if you feel them, you do not consent to them, but bear them patiently and calmly with humility and long suffering. Even if they are blasphemies and sordid, hold firmly on to this fact in everything, that you can do nothing better or more effective against them than to consider all this sort of fantasy as a nothing. Even if they are the most vile, sordid and horrible blasphemies, simply take no notice of them, count them as nothing and despise them. Don't look on them as yours or allow yourself to make them a matter of conscience. The enemy will certainly take flight if you treat him and his company with contempt in this way. He is very proud and cannot bear to be despised and spurned. So the best remedy is to completely ignore all such temptations, like flies flying around in front of your eyes against your will.

…

For it is in accordance with this eternal law that God has established with irrevocable firmness that deserts should be a matter of the will, whether in bliss or torment, reward or punishment. Love itself is a great will to serve God, a sweet desire to please God, and a fervent wish to experience God. What is more, to be tempted is not a sin, but the opportunity for exercising virtue, so that temptation can be greatly to a man's benefit, since it is held that the whole of a man's life on earth is a testing. (Job 7.1)
While the exact provenance of the entire work is somewhat unsure, I think it is sufficiently moving to include it here and doubt that the good Doctor of the Church would overly concern himself with the content of what is above.